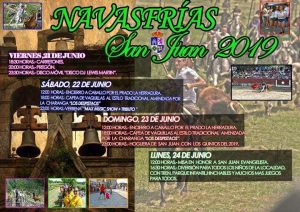 One more year ,Navasfrias, prepares to undertake the town's patron saint festivities.
Capea days are Sabbath 22 June and Sunday day 23, with their corresponding horse confinements and in the afternoon the capeas in the traditional style as it has been done every year.
Verbenas and all kinds of activities for young and old. I encourage the parties arriving fun and play and have fun.
El equipo de navasfrias.net allí estaremos con las cámaras grabando los eventos y con las entrevistas habituales del reportero Calavias,, always with you because otherwise this would not be possible.
Tenemos al lado de la plaza de toros " EL- * B A R D AL " Con su esplendida arboleda de roble, las piscinas y como no el chiringuito. IDEAL PARA TODO EL MUNDO . Do not miss it, anímate y te vienes para conocerlo. no te arrepentirás y volverás .
A greeting to all…