san juan closure Navasfrias Saturday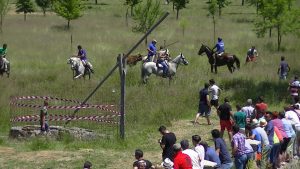 Siguiendo con la fiesta, Saturday was the second closure in honor of our patron San Juan, the bulls belong to the farmer Francisco Cuesta de (Casillas de Flores ) . The closure occurred without serious incidents.
The new route closure has been a success.
There was much excitement and fun by two heifers which decided to make the most of the time.
Our audiovisual team was there for a year to share with you all those present and those who could not attend our parties.
We also do our quoted interviews, we have to prepare videos and audio, as this all available share with you all.
Thank you very much for being there.
Regards
[embedyt] http://www.youtube.com / watch?v=POE94Y1Cc5s[/embedyt]
Follow us on www.navasfrias.net